Boil water advisory has been lifted as of Saturday June 13th.
***NOTICE***NOTICE***NOTICE***
PRECAUTIONARY BOIL WATER ADVISORY
Until further notice, the Vernon Village Water System has issued a PRECAUTIONARY Boil Water ADVISORY due to required repairs that resulted in inadequate pressure in the distribution system.
Customers should either boil their water to a rolling boil for at least one minute or use New York State Department of Health certified bottled water for consumption. No ice or beverages prepared with water from the water system should be used for consumption, unless the water is boiled first. You may wish to use commercially package ice and NYSDOH certified bottled water.
This advisory is in effect until repairs are completed and test show the water is safe for consumption. For more information, customers may contact the Oneida County Health Department at 315-798-5064 or the Village of Vernon at 315-829-2777.
The link to attend the Village Board meeting for June 16 at 6:30pm: (will post link on June 15th)
https://us02web.zoom.us/j/3310082164?pwd=R3NqeUVSaVN0eGROTS92TFhydUl6UT09
We will post a link to attend the meeting virtually on our web page (villageofvernonny.org) and Facebook page.
If you would like a copy of the monthly minutes please request them by email (villageofvernon1137@gmail.com)
Effective Immediately the Village of Vernon Offices will be closed until further notice. The Village will be checking emails and phone messages. For any payments please use the night drop.
Phone contacts for Village Offices: 315-829-2777
Village Mayor: 315-264-3470
Emails:
Clerk - villageofvernon1137@gmail.com
Mayor – villageofvernonmayor@gmail.com
Court Clerk - Sschell@nycourts.gov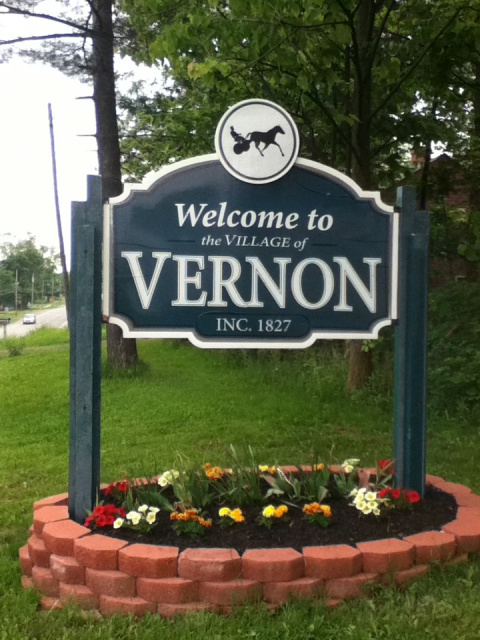 Welcome to the Village of Vernon
Nestled in the beautiful foothills of the Adirondack Park sits the busy Village of Vernon. Our village is centrally located between the City of Syracuse and the City of Utica, just off exit 33 of the New York State Thruway (I-90), and is home to approximately 1,155 residents.
The intersection of State Route 5 and State Route 31 is considered "downtown" in our village.
Vernon is also the home of:
Vernon Downs Racino (the fastest harness track in N.Y.),
Utica Rome Speedway (The Action Track of the East) and we are within minutes of the
Turning Stone Casino, along with numerous local restaurants and hotels.
Check out our local links for more info on local business.
"This institution is an equal opportunity provider and employer"