Village of Vernon
HOURS OF OPERATION
Monday - Thursday 8:00am - 1:00pm or by appointment
A Public hearing will be held on October 18th at 6:30 pm to discuss adding local law for AIRBNB
Village Planning/ZBA Board will hold a meeting on October 20th at 6:30 pm to discuss a variance for assign replacement at Shiloh Bible Church and a special use permit for a business sign for Newark Heights.
Garbage pickup for November 24th week will be Saturday November 26th
Please Mail or use Drop Box for Water/Sewer Payments
VILLAGE OF VERNON CODES ARE NOW AVAILABLE ONLINE: https://ecode360.com/VE1336
Anything pertaining to Village Court should be mailed (PO Box 1137 Vernon NY 13476) or dropped in night drop at the Village Hall 8 Ruth St. Vernon NY 13476
2021 WATER QUALITY REPORT IS AVAILABLE BY REQUESTING A COPY FROM THE VILLAGE CLERK
Village Offices: 315-829-2777
Village Mayor: 585-315-2841
Court Clerk - 315-829-2489
Emails:
Clerk - villageofvernon1137@gmail.com
Mayor – villageofvernonmayor@gmail.com
Court Clerk - @nycourts.gov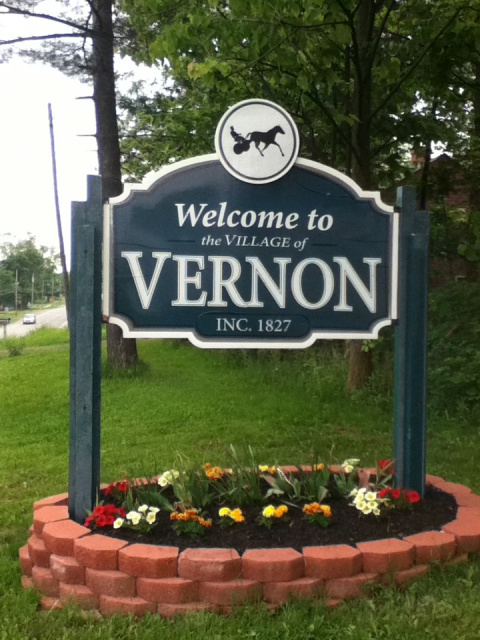 Welcome to the Village of Vernon
Nestled in the beautiful foothills of the Adirondack Park sits the busy Village of Vernon. Our village is centrally located between the City of Syracuse and the City of Utica, just off exit 33 of the New York State Thruway (I-90), and is home to approximately 1,155 residents.
The intersection of State Route 5 and State Route 31 is considered "downtown" in our village.
Vernon is also the home of:
Vernon Downs Racino (the fastest harness track in N.Y.),
Utica Rome Speedway (The Action Track of the East) and we are within minutes of the
Turning Stone Casino, along with numerous local restaurants and hotels.
Check out our local links for more info on local business.
"This institution is an equal opportunity provider and employer"
PagePage